Dried beef, also called chipped beef, has been a favorite beef product in many American households as well as the United States military for over 100 years. Dried Beef is a slowly cured, lean beef which is trimmed of most fat to attain ultimate leanness. It's mildly salty, yet beefy and smoky flavor profile goes well with many recipe applications…but undoubtedly, the best recipe marriage with dried beef is just a little milk, flour and butter to create the classic "Creamed Chipped Beef" recipe.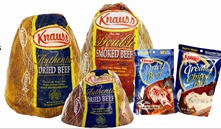 The versatility of dried beef is what makes this lean beef product a favorite!
Check out some of our favorite recipes and visit us on Pinterest!